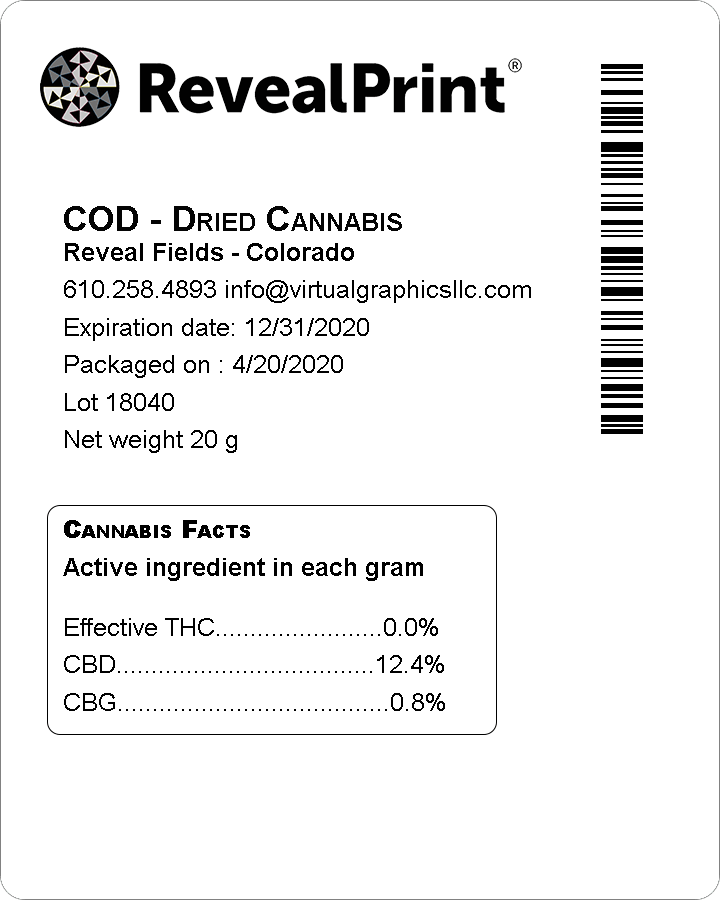 Using RevealPrint color-on-demand labels in your cannabis labeling operation will save you time and money. Your thermal printer and labeling software can be used to highlight the presence of THC – on-the fly. Tell us the color you need and where, and you will be in complete control of the data on your label – with one color, two colors – up to eight colors on one label.
Stop buying thermal labels with pre-printed THC symbols that sit on the shelf waiting to be used. Reduce your consumables inventory by imaging the regulatory information on-demand – with no inks or ribbons required. Use the same label for THC and non-THC cannabis products – One Label, Many Options!
Unlike traditional direct thermal labels, RevealPrint is a chemical-free, easily recycled, and environmentally friendly imaging technology that works with labeling software and direct thermal printers. RevealPrint is produced using passive ingredients that are readily available from sources in the US, eliminating any concern over supply chain disruption.
Applications include:
THC Indicator
The presence of THC in cannabis products has state-mandated identifying requirements. Many times, this information needs to be printed in a color that stands out from the rest of the variable data. RevealPrint allows you to use the same label for THC and non-THC products, on the fly! Need a warning along with the symbol – not a problem, you can image that as well!
Refrigeration Required
Clearly identify any special storage requirements without having to change label rolls. Make sure important storage information stand out helping ensure your product is stored properly, reducing the chance that poor storage conditions could affect the quality of the product.
For more information on RevealPrint labels and how they can save you time and money, reach out to your label provider or…